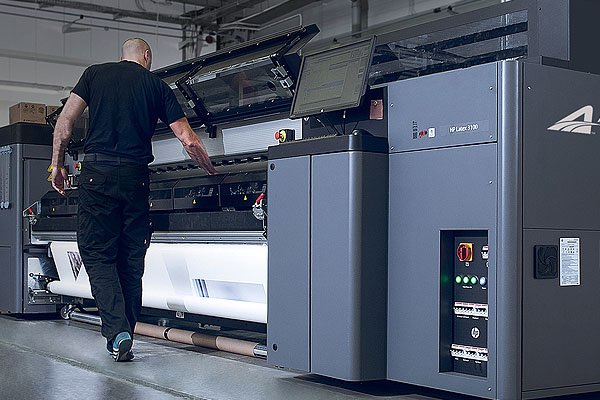 Wrap Printing
Ads On Wheels, Inc. ® uses the highest quality 3M™ films and vinyl for all of our vehicle wraps. We use the latest state-of-the-art printing technology available on the market to produce our applied graphics and custom vehicle wraps.
Vehicle Wraps Printing: Green and Clean
Highest Quality Printing
Ads On Wheels, Inc. ® uses the highest quality 3M™ films and vinyl for all of our vehicle wraps. Sure, there are less expensive options on the market. However, the life expectancy and print quality of your custom car or vehicle wrap is totally dependent on the base materials used. So we only use the highest grade products available. We are huge fans of 3M™ graphics films and have found over the years that 3M™ has maintained its consistency for quality and is the gold standard for film and vinyl products.
We use the latest state-of-the-art printing technology available on the market to produce our applied graphics and custom vehicle wraps. Currently, we use the HP® Latex 850 printer, the most advanced HP® latex printer on the market. We think it delivers the clearest possible image with vibrant colors and no banding—better than any other printer available today. We think it's the best printer we have ever used.
Now that you have the perfect design and chosen the best suited vinyl material for the job, it is time for printing your graphics. However, using a wide format digital printer is not as easy as using a desktop printer that we often use at home or in the office. There is a lot more involved in order to create sharp and vibrant vinyl graphics when printing a vehicle wrap.
When you have approved your final vehicle wrap design, our production team will print your custom wrap using adhesive vinyl panels. These panels are usually 54" or 60" in width. The size of the panels used will be based on the vehicle templates and fit of the wrap on your vehicle. High quality latex inks and cast lamination are critical to ensuring your graphics stay vibrant for the life of your wrap graphics.
Being environmentally conscience is essential to sustainability. As the nation's leading company for vehicle wraps and fleet graphics we pride ourselves on using and offering the best green vehicle printing technology available. That technology is latex printing. Our HP® latex printers allow us to offer you a true eco-friendly printed product. The color and clarity of our latex printing is the highest in the industry. Printing your wrap with latex inks allow our installers to conform the graphics on your vehicle without losing color consistency around complex curves.
Does what kind of printer you are printing on make a difference? Definitely.
There are three main types of wide-format printers that are used for printing on vinyl: solvent/eco-solvent, latex and UV. Ads On Wheels, Inc. ® uses the latest in latex printing technology. We only use HP latex inks and because third party inks are known to fade more quickly and lose color and saturation. Using third party inks are more likely to adversely affect the vinyl's ability to adhere to a vehicle as well as maintain the life of your wrap. All of our printing is comprised of 3M™ component matching systems. We only use 3M™ vinyl wraps material. We combine this with the top quality 3M™ laminate. This allows for an extended 3M™ MCS™ warranty on all of your printed graphics.
Latex Printing Technology – This is the latest and greatest technology in the wrap world and uses less abrasive inks than solvent printers. Latex printers are unique in that they use multiple fans and extremely high-powered heaters to cure the ink as it is being laid down on the vinyl, resulting in prints that are 100% dry immediately after being printed. Latex printers completely eliminate the need for off-gassing which makes them ideal for the vehicle wrap industry. Moreover, since latex ink's composition is naturally more flexible than solvent/eco-solvent ink, it's ideal for applications requiring vinyl to conform or stretch around curves. Latex inks provide for a supple feel and application of your conforming vinyl material. As the inks sits on top of the material it allows for a more even look and feel of the graphics, even if they are stretched around complex curves.
We recommend using a printing shop that utilizes a latex printer for vehicle wraps. The print quality is exceptional and the panels do not need to gas out for 48 hours before laminating, which means that your vehicle will not have to be down for several more day.
Solvent and Eco-Solvent printing – These are the original wrap printers of the industry and use extremely aggressive, odorous inks (either solvent or eco-solvent). These printers are known for saturating vinyl with heavy amounts of ink that take a considerable amount of time to dry or "gas out". The main disadvantage of using solvent or eco-solvent printers is that without proper time to gas out, vehicle wraps printed on these printers are prone to material failure. Solvent ink permeates the material as opposed to sitting on the surface, as is with latex inks. Solvent inks can attack the adhesive on the back of the vinyl and cause it to adhere incorrectly, which puts the wrap at risk of or bubbling, pealing or cracking. Vehicle wrap prints that are laminated too soon after printing without ample time to gas out typically look cloudy, hazy or bubbly. This is due to the gas from the ink being trapped underneath the laminate. Solvent and eco-solvent printing needs to gas out for a minimum of 48 hours prior to laminating. This will delay the printing cycle of your project by days.
If you talk to a provider that uses a solvent or eco-solvent printer and say that they print your vehicle in 2 days, be concerned. We submit that the printing shop has no intention of waiting the full 48 hours of gassing out to laminate your printed graphics before installing them on your vehicle. Laminating before gas out will certainly adversely affect the print quality and adhesion of your vehicle wrap.
UV – Ultra Violet (UV) printing- These printers are strongly discouraged for printing vehicle wraps. This is because the ink curing process under UV lights makes the ink brittle when dry, causing cracking of the vinyl. These printers are generally used for printing signage and window graphics, but when you take UV printed vinyl and try to stretch and conform it to fit around highly compound curves or on a vehicle, there a much greater risk for ink cracking underneath the laminate. Many vehicle wraps that were printed using UV printers come to us with cracked hood, roof, and trucks.