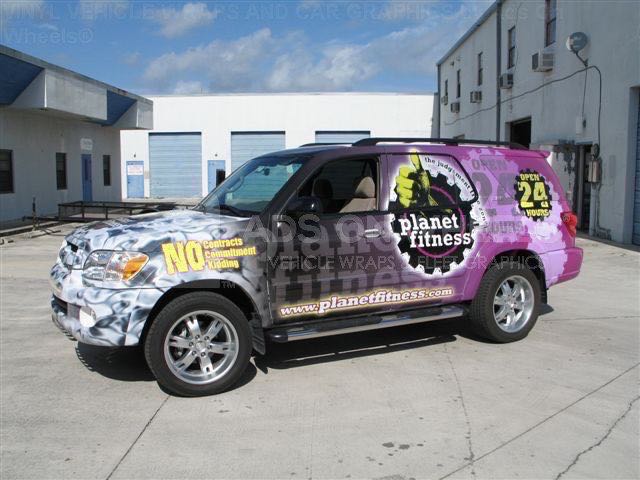 Vehicle Wraps By Ads On Wheels® Generate Revenue
Vehicle wraps are the most effective method of advertising for cars, trucks, vans, and trailers. Advertising is essential to any size business. Commercial vehicle graphics generate revenue and branding visibility like no other form of advertising. Start using your business vehicles to advertise your business. Don't let the opportunity of marketing to your potential customers pass you by. Let us create a custom vehicle wrap for your business and start generating the exposure your business needs to compete.
Car Wraps
Get your brand and message out on the streets with a custom car wrap. Made with high quality cast vinyl your car wrap will last you for years to come. Let the power of advertising graphics on your car work for your business.
Van Wraps
Looking to get a van wrapped? How about wrapping an entire fleet of van wraps? A commercial van wrap for your business is the best way to advertise, period.
SUV Wraps
If you own an SUV, take advantage of using your vehicle to market to your customers. Whether you use your vehicle for sales calls or delivering product, put a wrap on your car will get you noticed.
Sedan Wraps
Wrapping a sedan for your business gives visibility for your company. If your sales vehicles are traveling from client to client, let a wrap do the talking,
Coupe Wraps
The unique and appealing shape of a sports coupe will attract the eye of any passerby. When wrapping a sports car it is best to wrap the roof of the vehicle as well.
Truck Wraps
Whether you have a pickup truck or box truck, advertising using a truck wrap will certainly get your business attention. From deliveries to the worksite, truck wraps get your company seen and known. Get the highest quality truck wrap or graphics for your business. Truck wraps really work. Just ask someone who has one.
Utility Truck Wraps
Service body trucks are commonly used for many commercial businesses. We have created utility truck wraps for contractor and companies that specialize in roofing, electrical, hvac and automotive services.
Food Truck Wraps
Wrapping your food truck is the first thing you should do if you are in the food truck business. Food truck graphics are essential to a successful mobile kitchen or restaurant truck.
Pickup Truck Wraps
Wrapping your pickup truck is a sure fire way to attract customers to your business. A truck wrap for your pickup should be one the first things a home service business should do.
Box Truck Wraps and Graphics
Box Truck Wraps and Graphics
Box truck wraps and graphics are the best way to capitalize on your existing assets. There is no better way to market or advertise your company than wrapping your truck.
Trailer Wraps
From enclosed cargo trailers to large tractor trailers, we have ability to make your trailer wrap the talk of the town. Use your trailer wrap or trailer graphics to advertise at special events and popular venues. A wrap on your trailer will get you the targeted advertising you need.
Food Trailer Wraps
Custom vinyl graphics for your concession trailer give you the ability to offer a unique look to your mobile food business.
Gaming Trailer Wraps
Mobile gaming trailers are big business. Having a custom gaming trailer graphics for your gaming trailer or game truck is a must have for this business.
Tractor Trailer Trucks
Whether you are transport and logistics and company or trailer leasing company, having graphics on your trailers is a must.
Cargo Trailer Wraps
Let your trailer work as a rolling billboard for your business or organization. Cargo trailers and enclosed trailers are a prime opportunity to advertise to your clients and increase your brand recognition.
Bus & RV Wraps
Using a bus wrap to promote your tour or event is one of the most impactful strategies to use for mobile advertising. Bus graphics have been used for years, but wrapping your bus puts your advertising on a completely different level. Let us design a unique awe inspiring wrap for you coach bus, tour bus, or shuttle bus. Bus wraps offer the biggest advertising graphics on the road.
RV Wraps
Using an RV as a rolling billboard is a great way to promote your brand. Creating an impact with full color graphics is what we do. Make an impression with RV Wraps.
Transit Bus Wraps
Advertising on a transit bus delivers repetitive messaging to the same audience. It is well known that multiple exposures to the same brand or product creates legitimacy and trust.
Shuttle Bus Wraps
Shuttle buses are an effective opportunity for promotion. Many college campuses and local transit systems use shuttle bus wraps and graphics to advertise products, services, and events.
Coach Bus Wraps
Coach bus wraps are one of the best ways to create visibility of your brand or event. Many coach busses are used for transporting sports teams, political campaigns, marketing tours, and colleges and universities.
Frequently Asked Questions About Vehicle Wraps
Have questions? We've got answers. You're in the right spot. We are asked all kinds of questions every day about vehicle wraps. Let's start with the most common ones below. If you have a question you don't see answered on the list below, just give us a shout and we will be more than happy to help.
Vehicle Wrap Warranty
What is the warranty on my vehicle wrap?
As a 3M™ MCS™ Warranty house, you can rest assured that your wrap will have the most comprehensive warranty in the industry. We make sure that we use 3M™ recommended components such as inks, films graphics protection film and application standards. Our wrap films have a 7-year outdoor durability. This protects you from cracking, color fade, and material failures.
If I have a problem with my wrap who do I call?
Us. Our goal is 110% satisfaction with all of our clients. With so many companies out there offering products, we believe that all of our customers should have one point of contact. The days of dealing with companies deflecting their customers in a time of need are over. Let us be the one point of contact for any issues that arise. We have you covered!
Do you have a warranty on the wrap installation?
Yes. We will warranty our installations for a full year following installation. It is our experience with almost 20 years in the vehicle wrap industry, that if there are any issues with a vehicle wrap, they will be apparent within 1 month of the installation. Working with an adhesive vinyl material certainly takes a talent. There are factors that need to be taken into consideration for a great installation. Those factors include, surface prep, temperature, substrate condition and humidity levels.
How do I care for my custom vehicle wrap?
Hand washing with soft non-abrasive sponge is the best method. Avoid high pressure washes because that spray can actually tear the vinyl or cause seams to lift. Also, be careful to never use an ice scraper. We will supply you with a maintenance wrap care form so that you can make sure you have the information needed to keep your wrap in great shape. Also, be careful to never use an ice scraper on the wrap material.
Vehicle Wrap Installation
Where do I get my vehicle wrap near me installed?
Installation can be handled a couple ways. If you have an indoor location available that can fit your vehicle, we can send our installers directly to you to complete the installation on site. If you don't have a suitable indoor facility you would bring your vehicle to one of our over 500 qualified wrap installers facilities to have your graphics applied. A controlled environment is extremely important to quality of the finished product. Wind, rain, extreme temperatures, dirt, etc. all contribute to the breakdown of the install process.
Can a wrap installer near me come to my location?
Sure. However, we do require that the facility be suitable for the installation. A suitable installation facility would be indoors, temperature controlled (between 50 degrees and 75 degrees F). The facility must be well lit, clean, and free of contaminants, dust, grease, or dirt. The vehicle must have at least 6' around of space in order for our installers to work properly. If you suitable installation facility is further than an hour from the closest installer an additional trip charge may apply.
Once a wrap design is approved, how long does it take to wrap a vehicle?
From the time that the design is completed and approved by you, we can print your wrap and have it installed within 10 business days, often times less. To physically wrap an average sized vehicle will take the better part of a full day. Depending on your vehicle size and wrap complexity it make take 2-3 days. We always recommend to drop off your vehicle the night before your installation clean and dry.
How do I remove my vehicle wrap?
In both the application and removal of vehicle wraps, the key is working with an experienced installer. Ads On Wheels, Inc, rarely experiences problems with paint removal and therefore is a preferred vendor among many media and transit companies. Removal fees are additional. Trying to remove a wrap by your self is not recommended.
Can you just print my wrap for me? I have my own wrap installer.
Sure. If you have your own installer to wrap your vehicle, that is not a problem. We can design, print and ship your wrap directly to you. If you don't need a design we can produce your print-ready wrap for you as well.
Vehicle Wrap Design and Printing
How do I get wrap design ideas?
We have designed and wrapped literally thousands of vehicles for different industries and businesses. Our in house design staff is the most experienced vehicle wrap designers in the business. We have an extensive gallery of our work to gain inspiration and wrap design ideas. We can create a custom wrap design befitting your business and brand.
Do I need to provide my own vehicle wrap design?
Ads On Wheels. Inc. ® includes design in all of its pricing to our customers. Our in house design team will create a custom, unique design for your business. If you have a logo or images you would like to use in your wrap design, be sure to send those along when we start your wrap design. We can even provide you with a vehicle wrap template for your vehicle.
What if I already have my own vehicle wrap design?
If you have your own design capabilities we can provide you with vehicle templates and specifications for the artwork, free of charge, so that you can provide us with your completed design ready to print. It is important to remember the purpose of a vehicle wrap is advertising. Your vehicle becomes a moving billboard in which your audience has approx. 3 seconds to receive your message. Dynamic graphics with minimal text is ideal. Vehicle wraps are not meant to replace a custom paint job.
Does a vehicle have to be a certain color to work with my wrap design?
No. A full vehicle wrap covers all the painted surfaces of a vehicle (roof when requested) and is an opaque vinyl material. Areas such as chrome bumpers, grilles and trim are generally not covered. Therefore, color generally does not matter. However, if you have a light vehicle and a dark wrap, edges and hinges may be slightly visible after installation. Same is true for the opposite. Please also keep in mind that window wrap coverage is subject to local and state regulations.
Can you provide me with vehicle wrap templates?
Yes. If you provide us with the year, make, and model of your vehicle, we can provide you with a vehicle wrap template to create your own mockups or designs. Providing images of your car, truck, trailer, or van will be helpful to us in determining which vehicle template you will need.
What if I don't have any high resolution images to get my vehicle wrapped?
High-resolution artwork is available and can be purchased through various sources. You can also purchase Royalty free artwork; you can then use it in all of your marketing material. We utilize several websites that provide high resolution artwork and images. Often, high resolution artwork can be attained through a corporate office of most franchises. Keep in mind that we can assist you in designing a complete wrap from concept to completion which includes dealing with all of the high resolution artwork.
What if I have to change information or repair a damaged wrap?
Graphics, logos, and phone numbers (or any part of the design) can be changed, reprinted and re-installed. In some cased the graphics can be done with overlays. Depending on how old your wrap is, we recommend sending us a sample of your existing wrap to make sure that we can get the colors as close as possible to match your existing wrap.
How clear will the wrap printing be?
Our HP™ Latex printers can print up to 1200dpi. Printing output has the same the quality of the images and art that you use during your design process. The quality of your images will dictate the quality that is printed. We make sure that if your images or files are not up to par, we will let you know.
Common Vinyl Vehicle Wrap
Do you pay people to drive with a vehicle wrap on their car?
No. We do not currently offer any programs to wrap your personal vehicle and be paid. Yes, we have heard of these programs, but do not recommend any specific company .
How much does a vinyl vehicle wrap cost?
Ads On Wheels, Inc. provides vehicle wrap prices based on the amount of material that a wrap consumes as well as installation. A typical full vehicle wrap (no roof), on an average sized vehicle, will cost from $2500-$3500. This wrap cost includes the design, printing, shipping, and local certified wrap installation. Vehicle wrapping cost can vary depending on the type of vehicle you have, the amount of material used, and installation complexity. Reach out to us directly to find out how much is costs to get your vehicle wrapped. We can wrap all kinds of vehicle including your car, truck, van, trailer, boat, or entire fleet.
How does the vehicle wrap process work?
There are three parts to the vehicle wrap process. Before a wrap can be printed the design and layout must be decided upon. Once the design is approved it must be printed on a large format printer. The final step of the vehicle wrap process is the installation of the graphics on your vehicle.
What kind of 3M™ vinyl wrap material do you use for my vehicle?
Only the best. We only use 3M™ high quality adhesive vinyl and laminates. As a 3M™ MCS™ Warranty shop you can be sure that we use all inks, printers, and materials that will make sure that your wrap lasts for years. All of our wraps are printed with 3M™ wrap vinyl. Currently, we are using 3M™ 180Cv3 with an 8518 lamination.
What kind of printer do you use for printing my wrap?
Ads On Wheels, Inc® wrap printing service utilizes our state of the art HP® Latex printing machines. Our machines are housed in a completely clean, climate controlled environment which insures the highest quality and consistency. If requested we will send you a printed proof prior to printing the entire job. This is recommended when matching color is critical.
Where do I get the vehicle wrapping near me completed?
Installation can be handled a couple ways. If you have an indoor location available that can fit your vehicle, we can send our installers directly to you to complete the installation on site. If you don't have a suitable indoor facility you would bring your vehicle to one of our over 500 qualified wrap installer facilities to have your graphics applied. A controlled environment is extremely important to quality of the finished product. Wind, rain, extreme temperatures, dirt, etc. all contribute to the breakdown of the install process. Let us take care of it all and get the vinyl installation done near you.
Does a vehicle wrap ruin or damage the paint?
No. If your vehicle has a factory paint job and is in good condition at the time of application, there will be no damage to the paint. If your vehicle has paint that is oxidized, cracked, peeling or has been repainted due to age or accident, the paint may be subject to damage upon removal.
Can I wrap a leased business vehicle I am using for advertising?
Sure. A majority of the vehicles we wrap are leased or rented our business clients. We often wrap vehicles that are rented for just a week for tradeshows or events. The wrap can easily be removed without any damage at the end of the lease or rental term.
How long does a vinyl wrap on a vehicle last?
You can expect your wrap to last 5 years or longer with proper care and cleaning. The graphics are very durable and are created with an outdoor durability of 7 years. Keeping your vehicle clean is important to keep your wrap looking great and properly adhered to vehicle. If there are every any issues with your wrap contact us right away.
What is the difference between a partial, ½, ¾ and a full vehicle wrap?
1/2 Wrap includes the entire rear of the vehicle and 1/2 way up the vehicle, and includes a hood logo. A 3/4 Wrap includes the entire rear of the vehicle and 3/4 way up the vehicle, and includes a hood logo. Typically, a full wrap includes the entire painted surfaces of the vehicle. We can even wrap the windows with a perforated see-through window film.
Do you provide wrapping for other vehicle types and surfaces?
Absolutely, we have wrapped buildings, windows, storefronts and large machinery, truck, trailers, boats, vans, and just about everything that you can think of. If the surface to wrap has enough adhesion for the vinyl, a wrap is possible. We can even wrap textured walls as well.