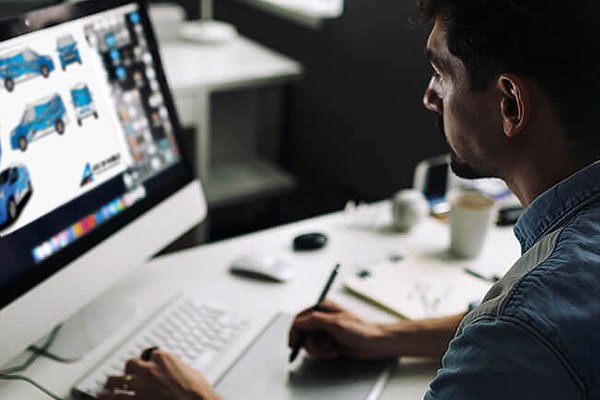 Wrap Design
It all starts with design. At Ads On Wheels, Inc. ®, we design your wrap for your brand and your vehicle type. We employ the best in-house vehicle wrap designers in the country. Our innovative and highly creative design team brings your ideas to reality. Whether you are doing one vehicle or one hundred, we custom design your wrap specific to your branding and your vehicle type.
Vehicle Wrap Design
It all starts with design. At Ads On Wheels, Inc. ®, we design your wrap for your brand and your vehicle type. We employ the best in-house vehicle wrap designers in the country. Our innovative and highly creative design team brings your ideas to reality. Whether you are doing one vehicle or one hundred, we custom design your wrap specific to your branding and your vehicle type.
We design to driving our clients' brands further. We accomplish this goal by understanding your industry, your company, and what message you are trying to convey to your customers. Our creative consultation is critical to the design process, as the goals identified in this consultation will serve as the driving force behind the design of your project.
Although the consultation process is continuous, we begin the design process immediately after our initial conversation. We take an in-depth look at the vehicle you're considering wrapping, and identify any factors that may affect the final look. By taking the time to carefully consider all factors in the beginning of this process, we develop a final product that will turn heads in traffic.
Ads On Wheels, Inc. ® takes pride in producing high-quality, professional results for our customers with top-notch customer service. Trust us with every aspect of wrapping your vehicle from the first initial design to the final approval. Ads On Wheels, Inc. ® designs graphics that showcase the uniqueness of your brand. Our massive library of vehicle wrap templates allows us to create a memorable wrap design for your truck, car, van, or trailer. With our experienced vehicle wrap designers we can create the image for your company that will generate impressions beyond any other form of advertising.
Our process begins with understanding your business brand, evaluating your current branding.  We create the most effective vehicle graphics and then developing a custom design based on your theme and application. Our team of experienced designers will create layouts and material recommendations to provide the most effective branding for your vehicle graphics program
Our designers use the latest graphics design software to create crisp, concise, and modern graphic designs that are ideal for your vehicle graphics. Too often we see competitor's wrap designs that are too busy with text, images and color combinations. A professionally designed car wrap is not like traditional design for other advertising media. Our team has been designing vehicle wraps for almost 2 decades. We know the do's and don'ts of vinyl wrap design.
We create vehicle wrap designs taking into consideration that your vehicle is a 3 dimensional object. Having graphics line up on a vehicle wrap is critical.
The design of your vehicle wrap is one of the most difficult aspects of the vehicle wrap process. Depending on the complexity of the design and style of vehicle will work with you to bring your brand to your customers. When the design concept is finalized we will create and design approval proof of your wrap design. This will illustrate what you wrap will look like from all sides. You would then approve the design or request any changes before we proceed to the printing phase of your project.
To design a brochure, banner, or business card you can simply add your logo, and contact information to a template. However, designing for a vehicle wrap is quite more complex. Designing a wrap for a vehicle is considerably more difficult as the object is 3-dimentional. The designer must have extensive experience and the right tools such as the latest vehicle templates to create a wrap design that will fit a specific vehicle properly without having the image or the message being sized incorrectly or falling on the wrong areas of the vehicle.
Every angle, space, curve of the vehicle must be taken into consideration when designing a great vehicle wrap. Ignoring these elements will result in a car wrap design that is not easy to read and understand.
Designing a vehicle wrap is unlike any other graphics design project. A designer must have a solid understanding of the wrap production and installation process in order to successfully design wraps.  While designing one must be able to think about how the wrap will install on the vehicle, where the natural seams will be, where the optimal places are to put text and images, what areas text shouldn't be placed.
Vehicle wrap designs need to be created on to-scale sized three dimensional renderings of the specific vehicle, make, and model to which the graphics will be applied.
Communication is essential to ensure your vehicle wrap is designed according to your needs. A complete understanding of the overall project is a must. Our designers will make sure that the image files are high resolution, files types are the right format, and the wrap design is properly scaled to fit your specific vehicle. We encourage our clients to focus on the purpose of the vehicle wrap. We have found that simple but deliberate design works best.  Please click here to review our Designs and Procedures specifications.
Branding that Works
The image that you present to the public compels your potential clients to purchase your products and services. Having a plain, dirty, white truck will NOT bring you revenue. Having a full color wrap on your vehicles demonstrates to your target market that you take your business seriously and that you are committed. It is well known that consumers react differently to a vehicle that has advertising on it than one that does not.
Picture two home improvement company trucks arriving at the door of a customer. One vehicle has a blank exterior with little to no graphics on it; the other has a full color vehicle graphic displaying the company logo, contact information, and bright, bold images of its products and services. The business with the wrapped truck shows its customers that it is invested in the professional appearance of its vehicle and shows its commitment to its own company.
This type of outdoor advertising was once reserved for large companies with deep pockets. Today, the small and medium size business owner can have that big company look and advertise to its prospective clients by using car wraps and car graphics.
Wrap Design Experience Matters
Our creative in-house designers specialize exclusively in vehicle advertising and have created thousands of custom vehicle wraps for clients. This focused expertise helps bring your brand message and design ideas to life. It is important to gauge your competitive environment when considering the look and message of your custom wrap. If you're the only plumber in town, we can help you remind your customers of that fact in a colorful, attention-getting way. Our design staff will work with you to determine what design would make your business stand out, whether it's one of many in a cluttered market or the only game in town.
Vehicle Wrap Design Process:
Vehicle wraps are a very popular design product for small and large businesses alike. Vehicles provide a great advertising space that will be seen by many potential customers. It's basically a mobile billboard with ad space that a business owner only has to pay for once.
Vehicle wraps are made of large, printed adhesive vinyl panels, typically about 54″ to 60″ wide. Those panels are applied to the surface of the vehicle. However, designing these effective ads can be quite complex. Any designer who decides to undertake a vehicle wrap project should at least be at an appropriate skill level before they attempt to design or deliver print ready files.
Below are a couple of items to keep in mind when designing a vehicle wrap.
Vehicle Wrap Templates
Before you even start designing anything, you need to obtain an accurate template. It's crucial to create the designs on an accurate template file of your client's vehicle in order to be able to create a design that is to scale and as print-ready as possible. Vehicle wrap files can be large and complex and some vehicle wrap printers will charge your client up to $75/hour or $250 total for any fixes.
Ideally, you would first start with a template file for your particular vehicle. There are several template file programs available. Some of them are very accurate, others are not. Be careful what templates you use to design a vehicle wrap. Please note that templates files purchased online will not always be 100% accurate, since each vehicle may have slight irregularities with year, make and model.
Next, find out which vehicle printing company the client is using and what their specifications are. Each vehicle wrap printing company may have different file requirements or printing processes, so it's important to gather as much information as possible before you even start designing.
Determine what images you would like to use in the design of your car, truck or trailer wrap. Make sure that you are able to procure the high quality resolution of those photos.
Vehicle Wrap Design Ideas
Now that you have all the technical information ready to go, it's time to start thinking about how to turn your vehicle wrap ideas into a reality! Let's assume that you already have a high resolution logo and advertising copy ready to go. You should be asking yourself about what type of vehicle wrap designs you like.
While it's not recommended, many business owners love photos in the vehicle wrap design. If that's what you want, very high resolution images need to be obtained or purchased. You'll need to establish on a budget for stock photos.
It's always a good idea to keep a vehicle wrap design simple, especially if it's an ad for your business. Your vehicle will be traveling at higher speeds on the highway, so you'll need to make sure that the brand's message can be read in seconds.
Creating a Vehicle Wrap Design
The Mock-up
Now that you've obtained high resolution images and hopefully a vectorized logo, you can use them to quickly sketch out your design. You can also create the design in the template files, but many designers find it easier to use Photoshop and Illustrator to create the design.
It won't be a 100% match for how it will look on the actual vehicle, but it will make it easier to visualize how graphics look when they meet at corners and rounded surfaces of the truck or car.
Make sure that any mockup created can be easily recreated or applied to the template files before you approve as the look you want to go with. Mockups are great for illustrating how your vehicle wrap design could look in real life and for getting an overall approval for the final design. It is important to be aware of expectations appropriately. Certain elements of a design may appear a certain way on a 2-dimensional, on screen template, but in reality will look slightly different after installed.
The Actual Print Files
Vehicle wrap print files can be created in either Adobe Illustrator or Adobe Photoshop. We prefer to use a combination of both applications to deliver a crisp clean print ready vehicle wrap printing file. When supplying art elements to a vehicle wrap designer files that are often accepted are both PSD and AI files.
Agency or Client Supplied art files:
Set your document color mode to CMYK
One way to create the design to scale is to use 1:10 ratio
Set the document ppi to 720
Use high resolution photos/raster images if they're part of the design
Convert all fonts to outlines
Label and organize each part into separate layers and make sure that each graphic has its own sublayer. Try to remove layers from you files that could accidentally be clicked on during the file preparation.
Add about 6 inches of bleed to each piece of the vehicle wrap template. The design will have to wrap around objects like the edges of doors, and adding extra bleed will help the installer grip around those areas to apply the wrap to the vehicle.