Fleet Graphics
Commercial Fleet Graphics trusted by Global Brands and Local Businesses.
Whether you have a large national fleet of vehicles or a local fleet of service trucks, we can service your needs. Complete commercial fleet graphics services include evaluating your branding needs and your existing graphics. Our experience team of commercial fleet graphics professionals has the experience with vinyl materials selection, design practices and installation requirement and logistics.
Fleet Graphics
Fleet graphics let your company create more value from your fleet vehicle assets. Large fleet marketing managers strive to maximize the use and effectiveness of their fleet vehicles. Taking advantage of your fleet trailers, trucks, or vans is essential in today's competitive environment. These assets are either owned or leased by your company. Applying full color wraps or lettering on your commercial fleet allows you to capitalize on assets you already own or manage. That is an advertising machine delivering low cost, high value impressions, 7 days per week, 12 months per year. Fleet advertising is never turned off, never flipped on a page, never changed on a channel, and never deleted.
Commercial Fleet Graphics
A commercial vehicle wrap is a term we use to represent any vehicle, whether it is a van, car, box truck, trailer, or other vehicle, that is being used as part of a business for marketing, promotion and advertising. Vehicle wraps are an effective promotion tool because they combine the key elements of marketing, advertising and branding, into one convenient and proven solution. They are high impact, cost effective and they work for all types of businesses. Vehicle advertising allows a vehicle to serve as a low-cost mobile billboard seen everywhere a vehicle typically goes. Vehicle wraps allow your vehicle to become a driven media
Commercial Fleet Wraps
Branding your commercial fleet vehicles with full wraps just makes sense. From national franchises to corporate fleets, and buying groups, Ads On Wheels, Inc ®. has the experience you need. We are currently the preferred vendors for several national and international franchises. We have performed fleet advertising programs for companies with literally hundreds of locations. Your fleet is not just for transportation. The vast networks of experienced professional installers that we employ are 3M™ Certified and committed to the excellence in their trade. With our turn-key services we handle EVERY aspect of your fleet graphics needs. We do it all from design, printing, and installation anywhere nationwide and Canada.
Van Fleet Graphics
Most small and medium size businesses operate in highly competitive environment. So consider wrapping van fleet with wraps as a way to grab the attention of your prospective customers quickly. Wrapping your commercial van fleet has far more marketing power than just cut vinyl decals. Your commercial van graphics tell the world who you are and how seriously you take your business and your customer's loyalty. A van wrap can go a long way to creating a brand image worthy of your business.
Trailer Fleet Graphics
Managing a fleet of trailers as a distributor or logistics company is hard enough. Selecting a trailer fleet graphics vendor that can effectively execute your needs shouldn't slow you down. Let us design, print, and install your trailer fleet graphics for you literally anywhere in the country.
Vehicle Fleet Graphics
The name and phone number of your business fleet isn't enough to compete. You need to create a mobile billboard that turns some heads and grows your business. As we have for thousands of satisfied customers, Ads On Wheels, Inc. ® will create a customized vehicle fleet graphics program that grabs attention and generates new customers whether you have one truck or fleet of hundreds! We offer a variety of vehicle graphics from full fleet truck and trailer wraps to partial wraps. All designed for maximum impact.
Fleet Graphics Installation
Professional installation is hallmark of a successful fleet graphics program. Logistics of a fleet campaign are complicated and need professional, experienced staff to coordinate. A program that results in excessive downtime of commercial vehicles can substantially affect the benefit of any fleet graphics program. With a vetted and verified installer network of over 500 professional installers, Ads On Wheels, Inc. ® has the capability to execute your program successfully. We utilize the most experienced installers in the nation as well as Canada. Our network of installers are credentialed and certified as 3M certified Installers, 3M preferred, CWI, and Avery.
Fleet Graphics Printing
Let us be your fleet graphics printing vendor for a nationwide program. Visually creative design coupled with the highest quality materials result in the most effective fleet branding campaign. Using the highest quality vinyl graphics materials on your graphics project is essential to maintain your fleet project integrity. Graphics for fleets will be on your vehicles for years at a time and must stand up to constant use.
We utilize the most advanced latex printers, component matching inks, and materials in the industry. Our printer inventory includes the most advanced technology from HP. Our latex inks and premium 3M™ vinyl allow us to produce waterproof, weatherproof, UV resistant, durable graphics. Our 3M™ MCS™ certification allows your graphics to receive an extended warranty for all of your fleet graphics. Wrapping your fleet vehicles with subpar materials may have a lower initial cost, but will be required to be redone, after a considerably shorter period of time.
Fleet Brand Project Management and Logistics
No two fleet projects are the same, but the goal always is; Results. We have developed a refined process of fleet branding and identification. We offer full services from consulting, design, printing, shipping and installation for fleet graphics project of all sizes. Being a leading fleet graphics supplier, we have wrapped thousands of vehicles with our fleet wraps and graphics, all across North America, and each has provided a different set of challenges. We handle and assess all aspects of fleet graphics and installation needs including:
• Reducing fleet vehicle downtime and loss of productivity
• Applying fleet graphics with multiple locations across the country
• Fleet graphics design for different vehicle types and sizes
• Quantity of vehicles to be identified
• Fleet graphics coverage from full wraps to spot vinyl graphics
• Commercial lease vehicles remarketing improvements
• Fleet Vehicle graphics maintenance and
care programs
• Kitting of your fleet graphics for quick order and graphics installation
Benefits of Fleet Graphics
Custom truck fleet advertising programs tailored to the specific needs of fleet owners and their clients.
We provide discounts to lower prices based on fleet size and scale.
Uniformity matching fleet graphics creates a more powerful impression.
Substantial discounts are offered on the replacement wraps or continued fleet graphics applications.
Many fleet management companies and distributors are seeing the benefit of offering advertising services on their trailers. Maximizing the revenue potential can create a better bottom line for your operations.
Protection of your Assets
Having your fleet trucks, vans, trailers, or trucks wrapped will protect the paint condition of your vehicles. With wraps installed on your fleet vehicles the vinyl materials will protect the surfaces of your vehicle from chips, scratches, and fading. After removal of your fleet graphics, your original OEM paint will be as good as the day you purchased or leased your vehicles.
View some valuable Fleet Graphics Statistics and information by Automotive Fleet
Ranking of the largest commercial fleets in the U.S. as of 2017 (in units) as by © Statista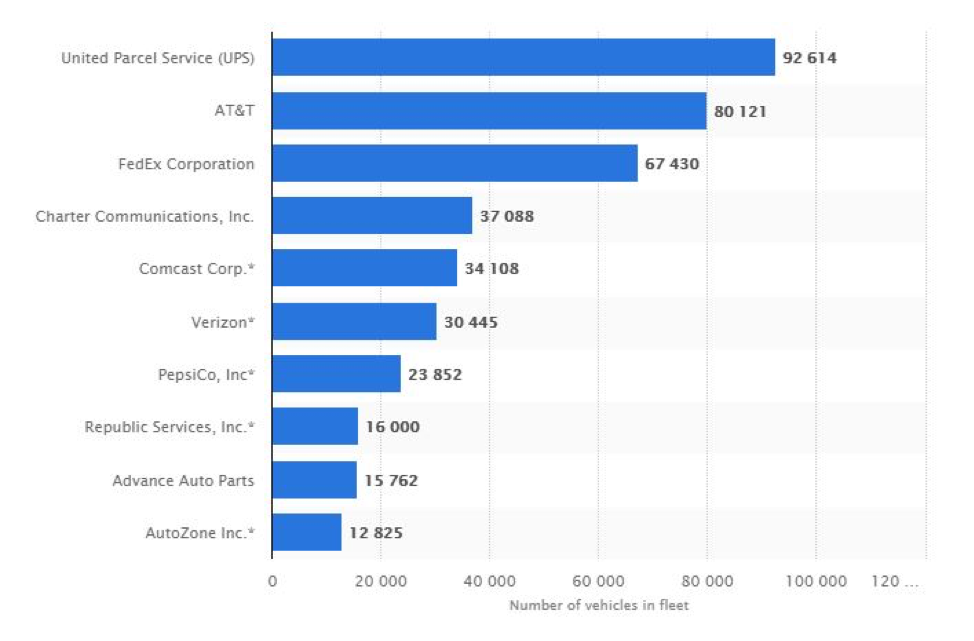 Commercial Fleet Vehicle Types
Ads On Wheels, Inc. ® has design, printed, and installed commercial fleet graphics and wraps for literally ever type of vehicle. Let us create and deliver the best fleet graphics for any of your vehicle types including your:
Trailer
Van
Service truck
Utility truck
Car
Box truck
Semi-trailer
Tanker truck
Tractor trailer
Straight truck
Step van