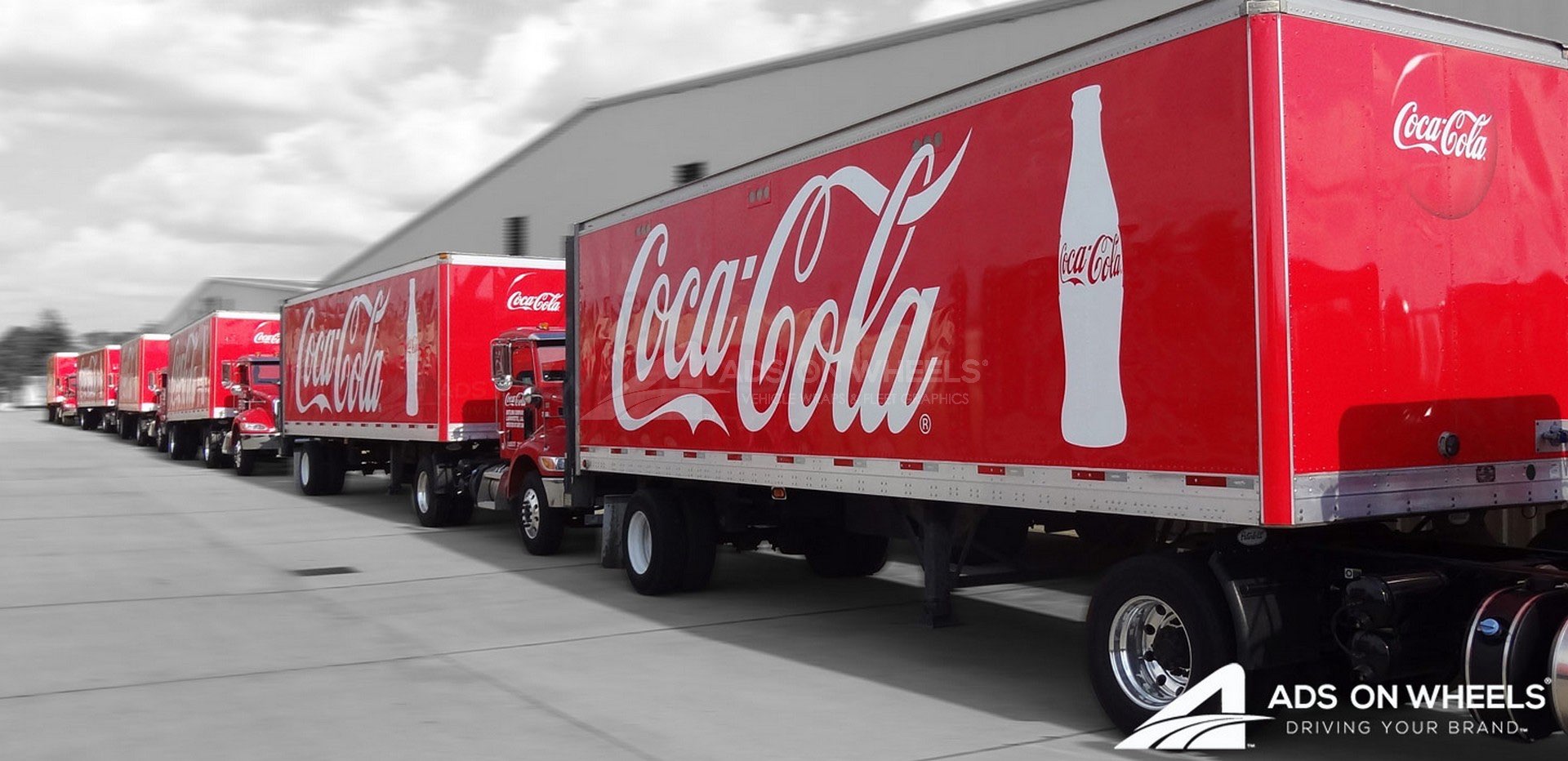 Semi-Trailer Graphics
The ubiquitous semi-trailer was one of the first forms of mobile advertising. With literally millions of these units on the road, advertising on them just makes sense. Whether you are transport and logistics company or trailer leasing company, having graphics on your trailers is a must. Large semi-trailers and dry van trailers, travel long distances. This fact proves to offer a brand viewing opportunity to hundreds of thousands of people.
Tractor Trailer Wrap Advertising
Trailer fleets have always generated income from shipping products and services. Now having what is essentially a 54' traveling billboard can create new streams of revenue from tractor trailer advertising. From distributors to freight companies, using trailer graphics has become a way to supplement the cost of leasing or operating trailer fleets. Truck and trailer side advertising is big business and national and local brands are seeing the cost benefit.
According to a study by OOH Advertising Today
OOH advertising revenue has grown by over 23% in the past decade to over $6.4 billion.
OOH is consistently one of the top three fastest growing advertising media.
OOH reaches consumers away from home, closest to the point of sale. But even though the average consumer spends 70% of his waking hours away from home, only about 4% of all media is spent on OOH. OOH reaches the most attractive audiences for advertisers. Consumers most influenced by OOH are 18-49, high-earning, tech-savvy, and mobile, who spend 6-9+ hours per week commuting.
OOH is an effective local media. About 7 out of 10 OOH ads promote local businesses.
OOH delivers exceptional ROI. For every $1 spent, approximately $2.80 in sales result, compared to only $2.41 for print and $2.43 for TV.
OOH provides the most cost effective reach at the lowest CPM's in advertising. At a range of $3.38-$8.65 per thousand impressions nationally, the only medium that comes close is radio.
58% of all consumers have gone online as a direct result of seeing an OOH ad. OOH is quickly becoming the most 'converged' advertising media working seamlessly with social media, mobile and online campaigns to drive consumers 'from the big screen to the small screen.'
The advent of near-field communication ("NFC") and quick-response codes ("QR") has created exciting opportunities to make OOH even more engaging, interactive, and transactional.
People like OOH advertising. 85% believe OOH advertising is useful, 83% think OOH is informative, and 82% say OOH helps create jobs and stimulate the economy.
 Many of the largest brands in the country use OOH in their integrated media strategies, including: McDonald's, Verizon, Warner Brothers Pictures, JPMorganChase, Apple, AT&T, Coca-Cola, and Geico.
41% of people are more likely to learn about a brand being advertised using OOH
70% say OOH is very, or somewhat likely, to influence a purchase
82% of respondents search the web as a direct result of seeing an OOH after 5 exposures
Ads On Wheels, Inc. has the experience with trailer fleet graphics to take your trailer graphics project from design, printing, all the way to nationwide installation. Whether you have a corrugated trailer, or smooth side with rivets, we can get the job done and done right.
Whether you are transport and logistics company or trailer leasing company, having graphics on your trailers is a must.
Tractor Trailer Trucks Gallery